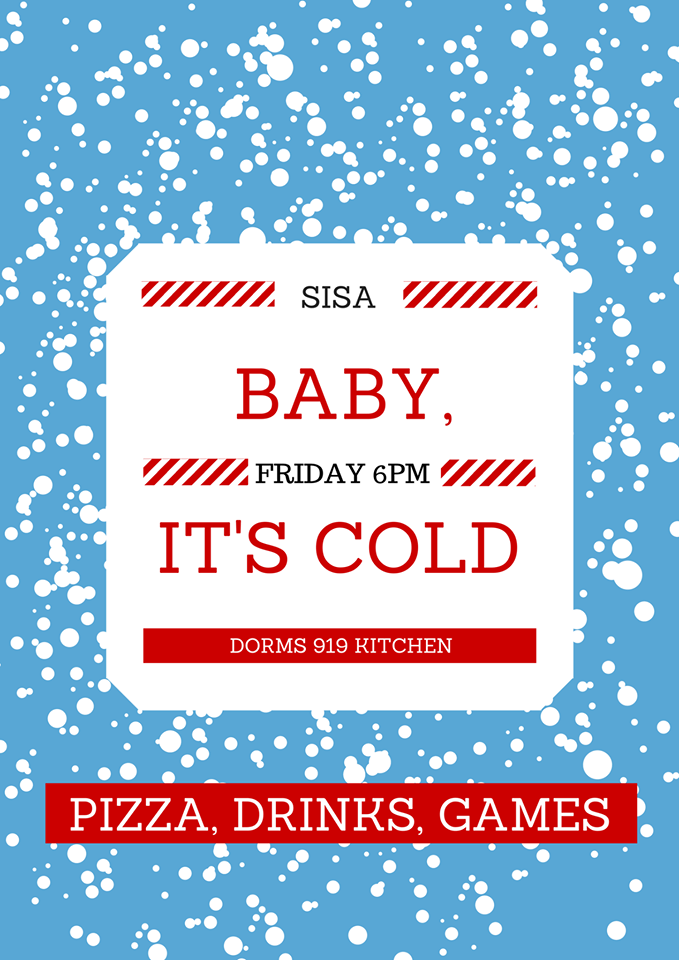 It looks like Winter had taken up the task of covering us under her fluffy blanket of snow. Icy lollipops are hanging from the roofs, streets are turning into skating ponds and the trees are dressed as snowmans. But hey, let it snow, they say. And it is the maxima around this time of the year, isn't it? 

Well, it is aslo part of our maxima at SISA to try to bring international students together and keep their festive mood even after the nightmare-ish final exams. And what a better way to do it, than a cosy gathering?

Start clearing your schedules for this Friday (19.12) 18:00 and join us for a simple yet delightful dinner at building 919's kitchen in Gwanaksa dorms. We promise there will be enough hot chocolate, tea, fizzy drinks and pizza to warm up anyone's heart! And to add some delicious flavour to our gathering, we have decided to orginize several small events: 

1. Photoghraphy contest - "Beautiful Winter". We encourage you to participate because there will be surprises for the winners! All you have to do is take a photo related to the topic of a "Beautful winter" and send it to us by private message. An album with all the entries will be posted on our Facebook page and the photos with most likes will be announced as winners. 
Deadline: Friday 9am.
Don't miss it!

2. Secret Santa - You know the drill. At the party (19th, 18:00h.) bring a small gift (no more than 5000 won) and we will randomly distribute all the gifts between the participants. It will be fun, won't it?

3. Bonding time. - How can an event pass without this?!

Are you convinced yet? We hope so and we would love to see you at our event this Friday.

Dress warmly!

Best regards, 
SISA.
Venue: Building

#919

(also known as undergraduate dorm) big kitchen
Time:

Friday

, 19 December, 2014

6:00 pm

~ 9:00 pm (estimatedly)
What to bring:

Christmas gifts

to exchange with your friends