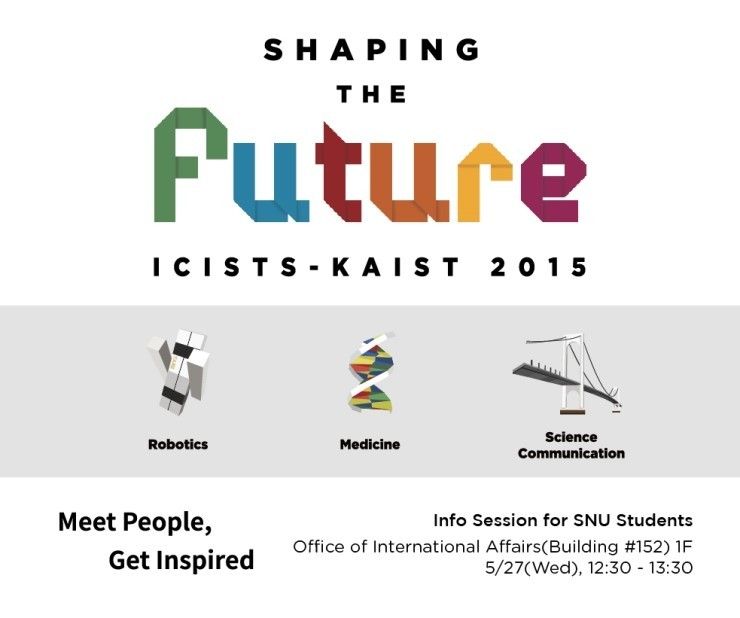 SISA is proudly happy to introduce to all SNU students ICISTS, a platform for sharing and discussing application of advanced technology.

ICISTS is a student organisation at KAIST and we organise an annual conference taking place in August.  It is the largest International Conference offered to students, in Asia, and it is our 11th conference this year. It will be held under the subject, 'Shaping the future', which deals with potential impacts of contemporary technological advances on our lives and society in near future. 
One of our most prominent goals is to diversify the cultural and historical backgrounds of our participants and for such reason, we eagerly look forward to having as many of SNU foreign students as possible joining us this coming August. Hence, we would to hold an Information Session at SNU and promote our conference. At the Information Session, we will provide general information about the conference (ICISTS-KAIST 2015): general overview, structure of the conference, participants, speakers, subjects, etc
In collaboration with ICISTS of KAIST, SISA is holding information session tomorrow:

Venue : Office of International Affairs (Building 152) First floor

Time  : 12:30 ~ 13:30  on Wednesday 27th, May

Complete informative brochure can be found HERE.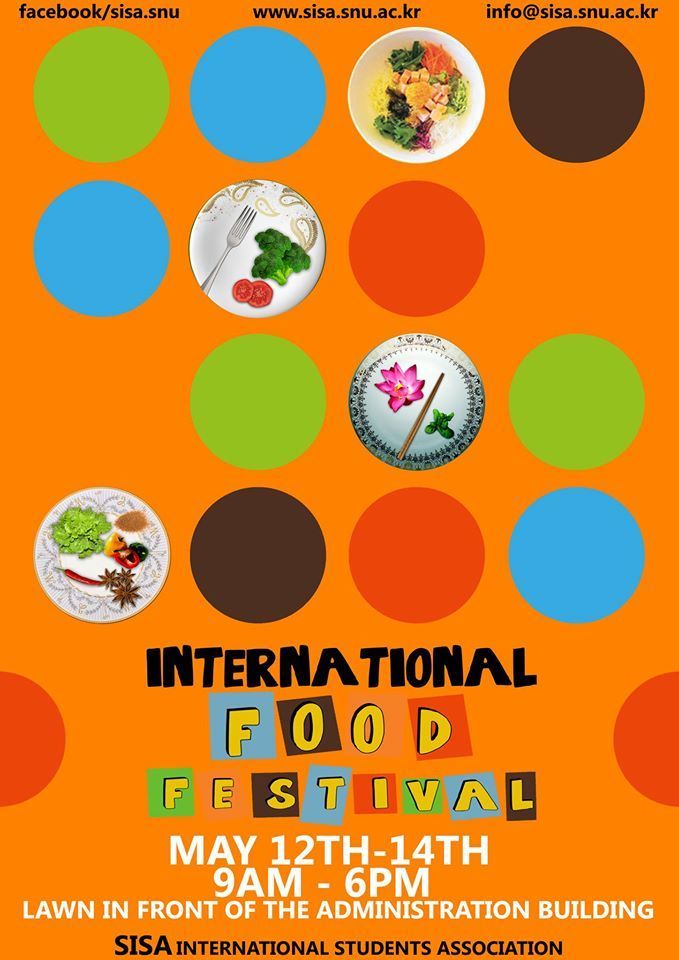 Have you ever wanted to go on a world trip just for a day? Well, SISA International Students Association will gladly help you by bringing to you one of the most thrilling (and delicious ;) ) events during the semester - our "International Food Festival (IFF)"

The International Food Festival will be your pocket culinary guide for this flavourful stroll across the globe. Let yourself submerge into an ocean of colours, aromas and tastes while having the pleasure of experiencing some delicous food. 

Don't hesitate and join us :)

Date and Time:
From May

12th to May 14th

.
9 a.m - 6p.m
Place: You will find our booths at the

Lawn

in front of the Administration Building.


Participating countries: Asia pacific, India, Vietnam, China, Uzbekistan, Paskitan, Brazil, Nepal. 
(we expect more participants so the list might change a little bit)

Meal coupons will be available at SISA booth
**If you are interested in cooking and performing your traditional culture, feel free to join in us at 
if any question, please consult with us via   This email address is being protected from spambots. You need JavaScript enabled to view it. or 
https://www.facebook.com/sisa.snu

----------------------*********************-----------------------------------