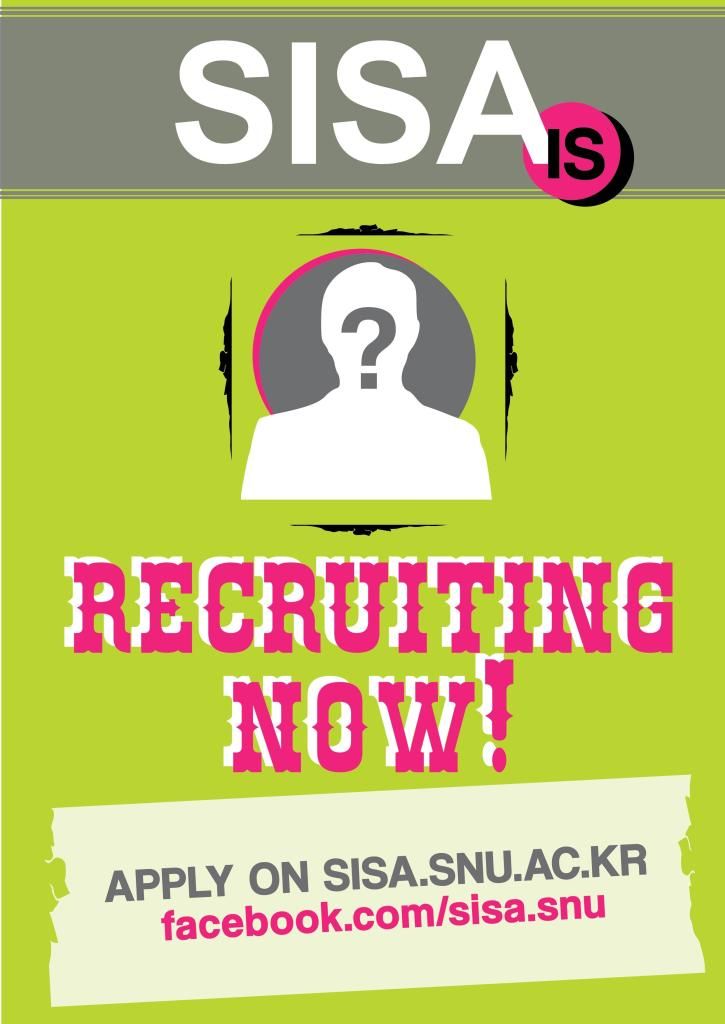 SISA is looking for new members! 
If you are willing to help people like yourself, 
if you want to make a change in the life of international students,
if you have fun ideas to share...
... then this is your chance; APPLY NOW!

#Requirements
* Being a regular/exchange student in SNU
* Having at least two (2) semesters before graduation(Only for regular students)
* Having time for regular meetings every week and for different events throughout the semester.
* Being able to easily communicate in English.
* Filling out the application form and submitting it before the deadline.
* Competency in Chinese (Mandarin) and English is a great advantage

Send the application to

This email address is being protected from spambots. You need JavaScript enabled to view it.  
请将申请书发送到 
This email address is being protected from spambots. You need JavaScript enabled to view it.  
/----------------------------------------------------------------------------------------------------------/
Dear International Students,
Have you encountered any problems during your stay in the SNU that you would like the SNU to take care of? 
SISA is happy to announce a unique opportunity to voice the problems of the international students community before the Dean in the course of the International Students Forum to be held in the second week of March.
If you are interested, please fill the form below:
 Please click here: http://goo.gl/forms/tzcMwcf7Av
For more useful information of campus life, please follow this link:  http://sisa.snu.ac.kr/index.php/info